Naan, often referred to as Indian flatbread (though it's consumed all across South Asia), has lately become quite popular in our part of the world.
Rightly so. It's soft and fluffy, chewy yet crispy in some spots, offering a great mix of textures. It's the perfect type of bread for scooping up those hearty, delectable Asian curries that I can't resist.
But (you saw that coming, didn't you?) the majority of naan options on the market aren't vegan-friendly. Vegan naans do exist, though. So, I did some digging and found the best vegan naan brands for all my fellow foodie vegans who love trying different cuisines.
Editor's Choice
Reader's Choice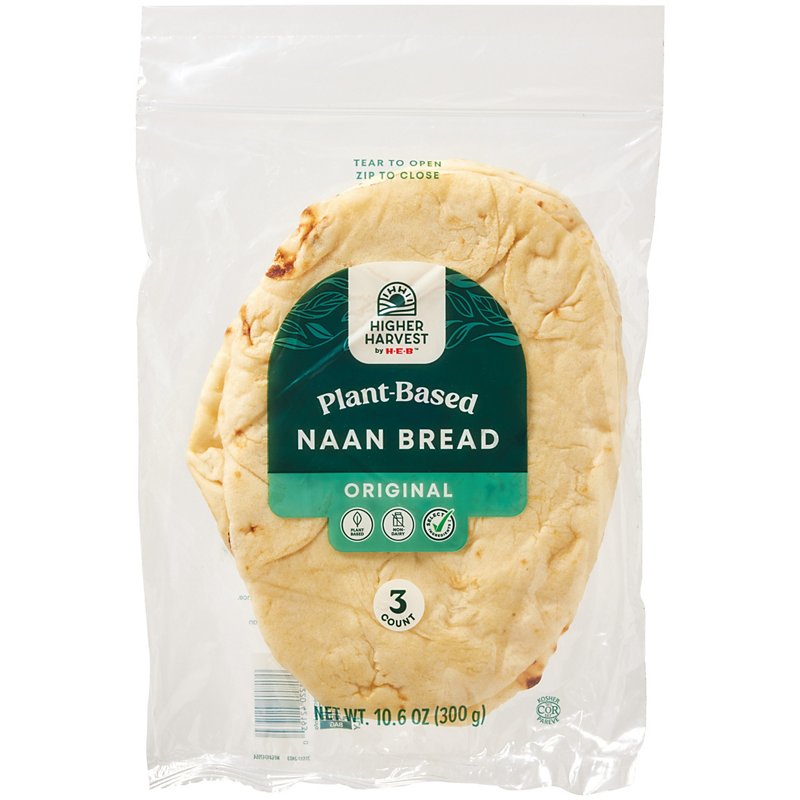 Why is Naan Bread Not Vegan?
Can I tell you something interesting before we move on to discuss the animal ingredients that make these delicious flatbreads unsuitable for us?
I once met an Indian who told me that naan bread is a redundant term because the very word 'naan' means 'bread.' So, when we say naan bread, we're basically saying bread bread.
Now think of all the times you may have made fun of yourself in front of Indians by saying naan bread and feel embarrassed, just like I felt at that moment.
Now, let's get back to the animal ingredients in naan (I won't say naan bread anymore).
Naan often contains milk and/or yogurt and butter or ghee. Some varieties may even have eggs.
3 Vegan Naan Brands You Should Try
Though naans have become quite popular in the western world lately, they are still not as widely consumed as some other types of flatbread, such as pita. Therefore, there aren't too many options available on the market. The list reduces even further when we apply the vegan filter to it.
I have shortlisted three brands that offer vegan naan, and I believe you should try them all to find the best option for yourself, according to your palate and preferences.
My picks for thevegan naan brands include:
1. Atoria's Family Bakery (LINK)
As they describe themselves, Atoria's is a family-owned and operated brand that makes bread using real, simple ingredients, and it all started from Atoria watching her mother and grandmother making flatbreads at home.
In other words, Atoria's flatbreads are prepared using a family recipe that has been passed down through generations.
The brand makes lavash, pita, pizza crusts, and, of course, naan. There are two varieties of naans available: traditional and garlic, and both are vegan-friendly. In fact, Atoria's Family Bakery is a verified vegan, kosher, and non-GMO brand. Do you know what this means? No risk of cross-contamination!
Atoria's naans are prepared in a dairy-free facility, so there are no crossover concerns. What's more, they can last for about three weeks in the refrigerator and up to a year in the freezer. So, don't think twice before stocking up!
2. Toufayan Bakery (LINK)
Toufayan Bakery has been around since 1926 and is one of the largest privately (family) owned specialty bakeries in the country. They started with making just pita bread but expanded the product line over the years to include several different varieties of bread.
Today, Toufayan Bakery is a leading supplier of bread for several major supermarkets. However, flatbreads still remain their specialty.
The brand has two options in the naan category – Original and Garlic – and both are vegan-friendly.
Toufayan naan, or tandoori flatbread as they call it, is also cholesterol-free, trans-fat-free, non-GMO, and kosher.
3. H-E-B (LINK)
Shopping at HEB can get one spoilt for choice. But the huge variety can also make you miss some really good products, such as HEB's vegan naans.
While your primary criteria may be to find naans without dairy and eggs, HEB offers you a lot more than that.
Their naans are one of Select Ingredients products, which means they are made with carefully-selected ingredients. HEB Select products are free of 175+ ingredients that include artificial colors, flavors, and preservatives, making them a healthier and safer choice.
Just like Toufayan, HEB vegan naans come in two varieties – Original and Garlic. Both are oven-baked and make great options for satisfying your naan cravings.
Vegan Naan FAQs
· Does Trader Joe's have vegan naan?
Trader Joe's is known for catering to various directory restrictions of its consumers and offers an extensive range of vegan-friendly products. Trader Joe's naans, however, are sadly not vegan. They contain milk.
· Is Stonefire naan vegan?
Many online sources assert that some of Stonefire naans are vegan-friendly. But my research suggests otherwise. All of Stonefire's naans contain ghee (clarified butter) and buttermilk.
They are not just listed on the ingredients label; the brand's website also clearly states that they use these two ingredients to make their naans as closely resemble the traditional ones as possible.
They may be vegan-friendly previously (which is why many online sources have included them in their lists of best vegan naan brands), but as of now, none of the Stonefire organic naans are vegan-friendly.
Conclusion
Although you can now find vegan naans on the market, there aren't very many options to choose from.
It could be because most of the brands that make naans follow the traditional recipe to offer the original taste, or it could be because the whole naan concept is new to the western world and many brands are still trying to crack the code of making perfect naans.
Whatever the reason, maybe, there are only a few naan options for those following a vegan diet. So, choose from them or make some vegan naans for yourself at home.
Wondering how to make homemade vegan naan? I've got you covered! Check out the following video for a simple vegan naan recipe…
Want to cook something to go with the vegan naans but lack ideas? Get your hands on some vegan cookbooks to make sure you never run out of cooking ideas. Check out my article Best Vegan Cookbooks for some suggestions.